I am relatively new to remote working (20 months at the time of writing), but here are my thoughts so far.
The most important recommendation first.
There's no need to rush
You don't need to rush out and spend lots of money on stuff. You can get what you need, when you know you need it. For example, before I started working remotely, I had a serious workstation at the office. Everything from 4 screens to 32GB RAM. For the first 12 months of remote working, I did 100% of my work on my 15" laptop. No external monitor. Before this, I would have sworn blind, that I would not be able to work on a laptop with just one screen and no external keyboard. I managed fine for 12 months and honestly, it wasn't a big deal. It's better to try working without spending lots of money, until you know what you need or want.
Location
The first thing you need to get sorted is a place to work. This might be a room in your house or it might be a local co-working space. Either way, here are a few guidelines:
Silence is golden
This is fairly straightforward, but I find I need a quiet environment. If you have a noisy house, you will need to make sure that your work area is quiet and that other members of the household are aware of these rules. I don't have this problem as the house is empty during the day, but I do work in the evenings and it is very beneficial to set some ground rules.
These rules definitely work both ways. They are in place to ensure that you have a nice, quiet working environment, but also that your family members have a home where they can relax and be themselves. Marching around the house on a business call, whilst others are trying to relax isn't going to make you very popular.
Get yourself an enclosed working space and try and stay in there when others are in the house.
Be mobile
For me, this is very important. I have found that I need 2/3 different places where I can work. This really helps me avoid cabin fever.
I am very lucky, in that there are lots of cafés within walking distance of my house, so when I need a change, I just pack up my laptop and head out. I don't usually spend more than a few hours working at a café, but I find it's a very useful option to have.
I also go to a local co-working space. This option isn't free, so I only tend to go here if I need to work late at night. My house isn't big enough to take business calls after everyone in the house has gone to bed. If you only need to use the space at unsociable hours, you might be able to negotiate a special rate.
It is worth taking a look in your local area to see what is available as it is as great option if you really need to focus.
Working late is not a prerequisite of remote working. I am in a different timezone to the rest of the office, so I need to work late sometimes.
Find your local cafe
This one is subjective, but when you work from home, going out for a coffee or lunch, becomes an important part of the day. I find I need to get out of the house at least twice a day, once for coffee/lunch and again (most days) for exercise.
This one isn't really a guideline, but more of an observation.
Office Setup
Everyone's setup will be different, so I can only really talk about my setup and what I like and don't like.
Desk
I don't have a fancy office desk. The reality is that my house doesn't have an office space, so I am set up in the sun room/dining room. I wouldn't really recommend this unless you (like me) don't use the dining room much. Moving all your equipment off the table regularly, soon becomes very boring. I have found that I don't need a dedicated computer desk. The dining room table works fine for me.
More recently I have bought myself a standing desk (form Varidesk) which sits on top of a normal desk. I have reviewed my standing desk here. I do really like my standing desk, but following the opening guideline of this post, you can probably afford to wait a bit to see if you need it.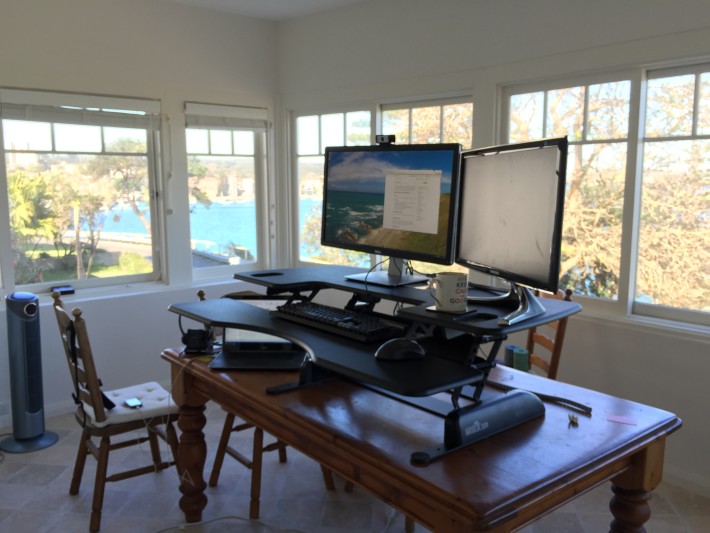 Light
Another subjective one, but proper sunlight is very important to me. This is a room that you're going to sit in for many hours of your day. Getting the light right is important.
Chair
I've read lots about computer chairs. The general wisdom ranges from:
"You are going to sit in this chair for 8+ hours per day. A decent chair will set you back £800, but will last 10 years, costing you 20 pence per day"
to
"meh, a chair is a chair is a chair."
I fall somewhere between the two, but favour the latter. For 12 months, I worked on a basic wooden, dining room chair (in the photo above). It had a cushion, but that was about as luxurious as it got.
Following my own advice, I did finally get a chair (well, I actually inherited it). It's a little too low for my desk, but it is an upgrade on the wooden one.
I realise there are health issues at play here, so you really need to listen to your body for this one. If you have back issues, or similar, then you need to make sure you get something that works for you.
Internet Connection
It's obvious, but you need an internet connection that can serve your needs. I went for the fastest I could get and although expensive (Australia), I wouldn't have anything else.
For a few months I actually had two connections. My primary was (and still is) a 100Mb cable connection and my secondary was an ADSL line. Unless you have particular difficulty with your internet going down, I would suggest this is overkill. I have had just the primary connection now for over a year and don't see it as a particular failure point. If the internet does go down, I just go to one of my other working spaces as described above.
Hardware
Onto the hardware....
Device
Make it mobile. I find it very important to have a mobile device. I might suffer from cabin fever more than most, but the fact that I can go and work from anywhere is very important to me.
I was concerned that a laptop wouldn't be powerful enough for me, but in most cases, that is just nonsense. I have done a detailed review of my Dell XPS 15 (9530) here.
Having a range of devices is also useful. Although not work, I am writing this, in cafe, having lunch, on an iPad mini with the Microsoft Universal Foldable Keyboard.
Keyboard
External keyboard is a must for me. I use the Corsair K30.
Mouse
An external mouse is critical too. I couldn't use a track pad all day. I use the Logitech G500. It's a gaming mouse, but I find the programmable keys are really useful and worth the extra money.
Monitors
I am a software developer, so bigger is definitely better. I have a mix of different screens at the moment. They are a 15" laptop display, a 27" Dell P2715Q and a 24" Samsung. They don't really compliment each other very well, but the 27" Dell makes up for the collective shortcomings.
Monitors are very specific to the job you have so I'm afraid you're on your own here.
Headset
The ultimate in uncool. Whenever I think of wireless headsets, I think of this.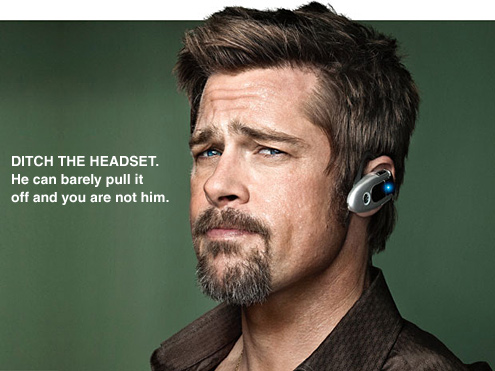 However, if you work remotely, you'll probably find it is quite important. I use Skype for Business a lot and the headset has become invaluable. I have got the Plantronics Savi w720.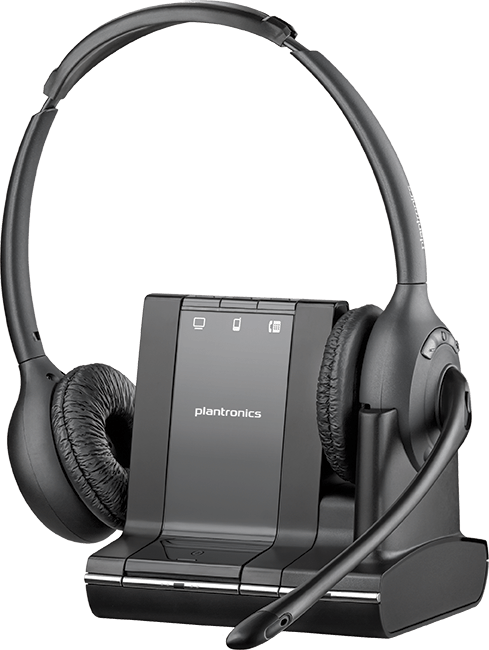 The key points about this headset are:
120 metres wireless range
Works with computer,mobile phone and desk phone
Call clarity (noise cancellation)
The best part is definitely the wireless range. I have to take a lot of calls in the evenings and I like to be able to wander around the house whilst doing so. I especially like to cook during meetings. There is a handy mute button on the earpiece which works with Skype for Business.
The noise cancellation is fantastic too. My office / dining room, is fairly echo-y, which is apparent when I use a normal microphone. This device is crystal clear.
Docking Station
A docking station provides two purposes.
Fewer cables connected to my laptop, which aides in portability.
DisplayLink is a technology which is inbuilt into quite a few docking stations. It essentially allows video over USB. This means that you will be able to drive more monitors from your device if you have one of these. They vary in specifications quite a lot, so you should check the capabilities of the device you are looking at (and your laptop), before purchasing.
Laptops, like all devices, are limited in the number of displays and maximum resolutions that they are able to drive. A DisplayLink docking station can assist with this, giving the ability to have more monitors.
At the time of writing, most DisplayLink devices run over USB 3.0. This means they are limited in what they can run. The top of the range docking stations are generally able to run 1 x 4K monitor and a secondary (sometimes a third) 1080p monitor. Having said that, we are starting to see Thunderbolt and USB-C devices which should be able to resolve the 2 x 4K issue.
NB. DisplayLink is not a gaming technology.
My docking stations of choice are StarTech.
Software
I appreciate that some of this will be outside of your control, but I'm going to list the software I use, most relevant to remote working.
Slack
Slack is a collaboration tool for teams. We have been using it at work for 6 months and find it very useful. They have a free version which will suit most companies so there isn't much of an excuse to get started.
Skype for Business
This is by far the best video/audio conferencing system I've used. Admittedly, it's not free and generally requires your company to have bought into it. I have tried Google Hangouts and other alternatives, which work fine, but I've just found Skype for Business to be the most reliable, especially in dodgy network conditions.
Workflowy
This isn't specifically a remote working tool, but for personal organisation, I haven't found anything simpler and more effective than Workflowy.
Anti-Virus
Hopefully this goes without saying, but anti-virus is very important!
Summary
I hope this helps anyone that is starting out in remote working and gives them some ideas of what to expect.