Windows 10 ships with a hidden feature, Game DVR. It is designed to allow you to record the screen whilst playing games, but it can equally be used for business.
I like to think of it as the Snipping Tool for screen capture.
I describe it as hidden, because seemingly you can only access it by pressing Windows Key + G.
Step by Step
To record your screen, just follow the following steps.
Open the Game DVR
Focus on the window you wish to capture and press Windows Key + G. This will load the Game DVR, which looks like this.

As you can see it is geared toward Xbox and games, but it doesn't mean we can't use it.
Start Recording
You have various options regarding settings which are accessed via the cog. To start a recording or to take a screenshot, the buttons are fairly obvious.
When you start recording you get a timer in the top corner of the window that looks like this.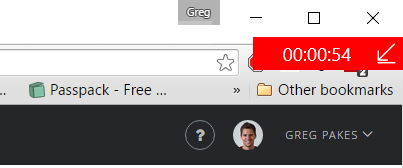 Stop Recording
When you have finished recording either press Windows Key + G to bring the Game DVR up again, or press Windows Key + Alt + R to stop the recording.
The videos will automatically be placed into the Xbox app on your device, but you can access them on disk at the following location.
c:\Users\%username%\videos\captures
You can also use the Open Folder option within the Xbox app to locate the videos.